Karachi (February 7, 2021): As soon as the anthem of the sixth edition of the Pakistan Super League was released, it kept trending on Twitter in which cricket fans criticized it and demanded singer Ali Zafar to release a new song.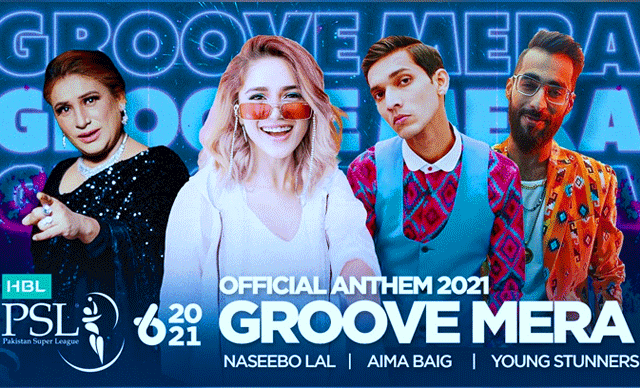 The official anthem 'Grove Meera' has been released for the sixth edition of Pakistan Super League. However, the trend on social media shows that cricket fans did not like it much.
This year's song was sung by folk singer Naseebo Lal, singer Aima Baig and hip hop stars Young Stiners, but fans called it the worst PSL song ever. Singer Ali Zafar sang the anthems of the first, second and third editions of Pakistan Super League, "Now play and show", "Now the game will be over" and "Let the heart die".
Ali Zafar's songs became very popular, but the songs have been controversial since then.
Actor and singer Fawad Khan sang the song of the fourth edition of PSL "Khel Deewana Ka" which was criticized by the fans and PSL fans started remembering Ali Zafar.
Singers Ali Azmat, Asim Azhar and Arif Lohar sang the song of the fifth edition "Tiar Hai" but the cricket fans did not like it and it was verbally abused by Ali Azmat and Ali Zafar.
After which Ali Zafar released his song "Mela Loot Liya" which the fans termed as "very good".
With the release of this year's PSL song "Grove Meera", people are once again remembering Ali Zafar and sharing various memes on social media in this regard.
Ab kya ker diya mein ne?

— Ali Zafar (@AliZafarsays) February 6, 2021
Another 💔 #bhaihazirhai @AliZafarsays
Needed another master piece from u #bhai
.#psl6anthem #MatchDikhao #PSL6 #GrooveMera pic.twitter.com/3HQ3eU7NIx

— Zaigham Tejani (@TejaniZaigham) February 6, 2021
Pakistani's reaction to #PSL6 Anthem:#Alizafer @AliZafarsays pic.twitter.com/UzpRodwFgp

— HONEY B E E 🐝🌸 (@InteractToKarlo) February 7, 2021
Me after listening #pslanthem2021 pic.twitter.com/YWlhWnMtVk

— D U A A ☻ (@DuaaI1421) February 7, 2021
(*PLAYS PSL ANTHEM*)
EVERYONE:#PSL6 #pslanthem2021 pic.twitter.com/UFdgLAu6bt

— Hamza Khalid (@hamza__khalid1) February 7, 2021
Seeing the level of #psl6anthem after #AliZafar. Now waiting this man to sing next one #PSL6 #pslanthem2021 #PSL2021 pic.twitter.com/31EjBPUVeD

— Kamran Sarwar (@KamranSarwar98) February 7, 2021
@AliZafarsays bhai please bhai🙏🙏#Alizafer pic.twitter.com/fhxS3Ikdxo

— Waleed Ahmad Qadri (@waleedqadri18) February 7, 2021
Gujjara vey is still worthy 😂😂 #pslanthem2021 #PSL6 pic.twitter.com/dsZIBUuqmH

— Zaheer Rai (@iamzrai) February 7, 2021
Believe Me… Yeh Wala Acha tha 😳#Psl6 #psl6anthem #GrooveMera #PSL pic.twitter.com/9fAeYv8eIV

— Realistic Talha (@RealisticTalha) February 6, 2021